DEFENSE SOLUTIONS – METAL TO PLASTIC REPLACEMENTS STRONGER. LIGHTER. FASTER.
Excellence in lightweight defense solutions
Vaupell is a defense solutions partner that has built longstanding valuable relationships with several top defense contractors in plastic and composite parts and assemblies. Utilizing our engineering resources to help convert metal to plastic for a lightweight option to support our soldiers with superior defense solutions.
Military aircraft
Rotocraft composites
Soldier systems: Night vision goggles, laser target equipment, combat helmet mounts, radio components & portable radar systems
Ordnance containers
Satellites
Defense solutions for Rotorcraft components and subassemblies
Defense industry requirements are constantly changing, but there are a few standards that remain the same such as being stronger, lighter and faster. In working with some of the top military aircraft OEMs coupled with our knowledge of engineered material solutions, Vaupell meets and exceeds our customer's demands.
Vaupell maintains a bonding room capable of aerospace bonding of multiple composites and metals for use in aerospace and defense applications.
Product highlights
Defense solutions designed, developed and manufactured by our highly skilled team. By designing and developing new materials with improved properties, our material scientists contribute to the creation of advanced technologies, improved manufacturing processes, and enhanced products. We offer highly-engineered products made out of advanced composites, plastics, and metals.
Soldier systems
We live in a fast-pace world that requires multi-tasking solutions in all aspects of life. Vaupell is a trusted manufacturing soldier systems partner for military end-users. These multi-functional, rigorous products include striking the balance of offering comfortable, mobility, durability, and reliability for varying mission and environmental conditions. We're proud to be a mission-critical, end-to-end solutions partner that helps keep our world more secure. 
Military aircraft
The military aircraft industry is a continuously evolving field, with advancements in technology and changing military requirements leading to the development of more capable and sophisticated aircraft. Vaupell has a proven track record with various agencies in meeting specific military requirements.
Satellite
Vaupell collaborates with commercial and defense organizations to produce highly complex solutions for the orbit satellite industry. These solutions involve next generation composite materials, advanced technologies, and precision engineering. They lead to more capable and efficient satellites for a wide range of applications that play a critical role in various aspects of our daily lives, from communication and navigation to scientific research and national security.
Guiding principles for a greener world. 
As your trusted partner, we provide comprehensive support and services throughout the entire lifecycle of a product.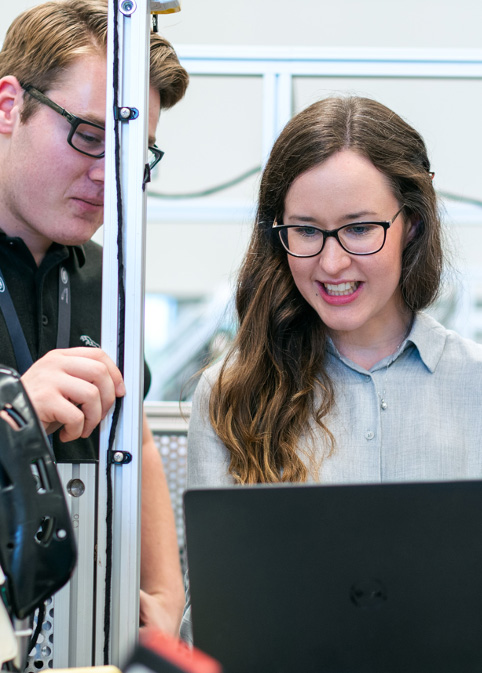 1. Unitization
Reduce system components
Elimination of adhesives and fasteners
2. Weight reduction
Metal to plastic replacement
Thin-walled molding
Elimination of adhesives and coatings
3. Sustainability
Material identification (transparency and traceability)
Recycled and bio-based materials
Material replacement to improve recyclability
A COMMITMENT TO SUSTAINABILITY
In alignment with parent company Sumitomo Bakelite Co., Ltd., we place a high emphasis on the environment and delivering sustainable solutions.
We solve social issues and achieve sustainable growth and value creation under a structure comprised of our Sustainability Promotion Committee (which is chaired by the President) and its subcommittees based on our business philosophy, which esteems the Sumitomo's Business Philosophy and sets forth our management principles.
We regularly and comprehensively verify the extent of the progress made by these committees, based on which we continuously revise the contents of our activities and actively improve upon them. In aiming for communication with our stakeholders, we widely announce the results of our activities within and outside the company.
Technologies…
that reduce waste, weight, cost, and manufacturing processes.
Material science
Re-using thermoplastic production waste in non-structural products
PFA replacement of phenolic prepreg and honey comb panels
Bio-based thermoplastic
MuCell/RocTool
Microcellular foaming of thermoplastic resins to reduce weight
Super-heating/cooling of the injection mold to improve material flow (thinner walls) & improve cosmetics (eliminate coating on cosmetic parts)
2K Injection molding
Multi-shot molding to eliminate secondary operations & adhesives for bonding secondary components such as seals to panels